How Long Do Tulips Bloom? They Bring Vibrant Color to a Spring Garden, But How Long Do Tulips Bloom? Whether planted on their own or combined with other bulbs such...
Read more
How Deep Do You Plant Tulip Bulbs? How Deep Do You Plant Tulip Bulbs For Colorful Blooms in Spring? Thanks to their brilliant colors and graceful shapes, tulips are one...
Read more
Do Tulips Come Back Every Year? Look After Tulips Properly and They'll Reward You With More Blooms Next Year Tulips are the perfect way to add the wow factor to...
Read more
As Dutch as windmills and wooden shoes, tulips will bring instant delight to any lawn, vase or balcony. In this blog we'll look at the characteristics of various subspecies, and...
Read more
Beloved for their striking colors as well as their sturdiness, Darwin Hybrid Tulips have been a gardener's favorite for nearly 70 years now. A classic in public spaces and a...
Read more
These flamboyant stunners look good in any garden. Find out where they come from, how to plant and care for them, and which of these show stoppers we sell.
Read more
Officially Tulips are perennials. So why do they often not come back after one season? Or at least not as beautiful and plentiful as the first time? The explanation is...
Read more
Freshly cut tulips brighten up your home and your life. In this blog we will look at 7 gorgeous DutchGrown tulip varieties that are perfectly suited for bouquets and vases....
Read more
The Black Tulip   Black flowers have a certain magic, and when those flowers are tulips, you can be sure of getting something truly dramatic. Although black tulips are relatively...
Read more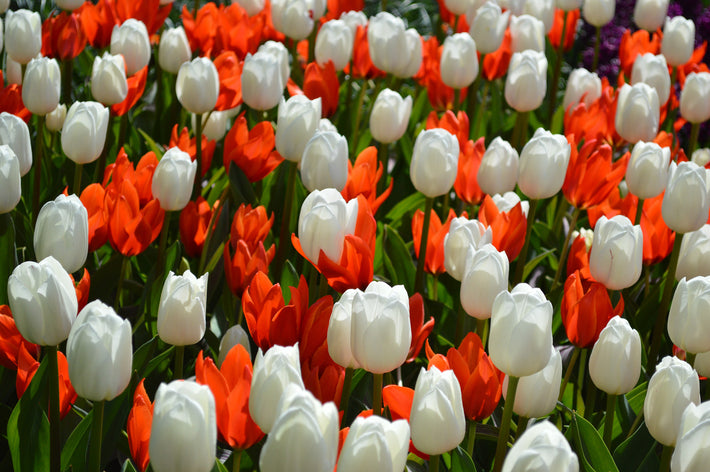 Have you ever traveled to the flower fields? During springtime there are lots of them in The Netherlands. The beautiful sweet perfume fills the air and it is pure joy...
Read more
Growing tulips in your garden is easier than you may have realized – particularly when you choose Giant Darwin tulips. Simply plant your bulbs in a sunny spot with well-drained...
Read more
What is something that you enjoy? Now double it! This is how I feel when I'm walking through a beautiful spring garden and I get the pleasure of seeing a...
Read more

Meet Ben, our Flower Bulb Specialist