Named for the goddess of the rainbow, irises deck the garden with color in spring and early summer. You may be wondering how deep do you plant iris bulbs for...
Read more
Daffodils are easy to grow and will reward you by coming back year after year. When planting, ensure that your bulbs are large, undamaged and are heavy for their size....
Read more
Irises are amongst the most beautiful of all spring flower bulbs, with lily-like blooms in a rainbow of colors that includes blue, violet, red, yellow, white, bronze, and pink. Irises are lovely...
Read more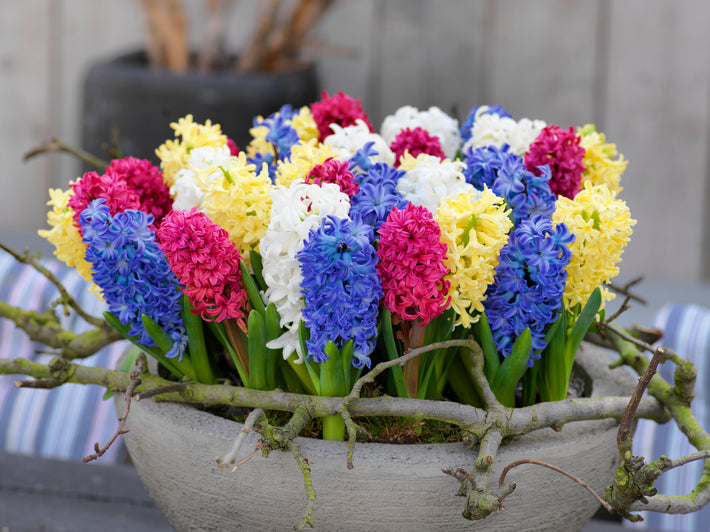 Hyacinths have been favorite fall-planted flower bulbs for centuries, bringing glorious colors and a fresh fragrance to the spring garden. With their upright blooms in shades of blue, pink, white, yellow, and...
Read more
Can't wait for spring? Why not grow spring flower bulbs indoors and enjoy color and fragrance in winter? Hyacinth bulbs are easy to grow and you can plant them in...
Read more
When you're dreaming about spring flower bulbs in bloom, a swathe of yellow daffodils and narcissi nodding in the breeze are probably what comes first to mind. There are hundreds...
Read more
Thanks to their elegant white blooms and sweet fragrance, Paperwhites areprobably the most popular narcissi to grow indoors. They're quick and easy to growwhether in soil or gravel: plant them...
Read more
Amaryllis are one of the most popular indoor bulbs and their huge, lily-like bloomsin shades of red, pink, apricot, yellow, and white are a welcome sight during winterand spring. A...
Read more
Thanks to their vivid colors and very varied shapes, tulips reign supreme in thespring garden. With early, mid-season and late-flowering varieties to choose from,tulips reward you with months of colorful...
Read more
Bold and beautiful, the amaryllis is one of the most popular fall planted flower bulbsto grow indoors. Amaryllis are very easy to grow and quick to bloom, cheering thewinter months...
Read more
Amarillo plants, or amaryllis as they are also known, are some of the largest andalso the showiest of all fall planted flower bulbs. Grow indoors to enjoy theirgorgeous blooms during...
Read more
How to Water Bulbs? Watering Bulbs for the Best Results Flower bulbs are some of the easiest plants to grow: just pop them in the ground, add a little water...
Read more

Meet Ben, our Flower Bulb Specialist